General description and goals

Eco-sustainable development was thus defined by the World Board for Environment and Development in the 1987 Brundtland report:
"Is this some kind of development that has an answer for today's generations needs without compromising tomorrow's generations ability to see to theirs. Two notions are related to this: the concept of "needs", giving priority to the basic needs of the poors, and the awareness of all those technical and social limitations that prevent the environment from being able to fill present and future needs".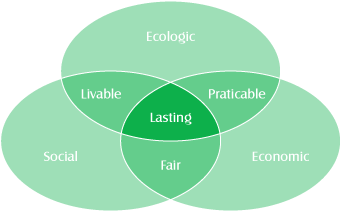 Eco-sustainable development: the junction of the so-called "three eco-sustainable pillars"

Lasting eco-sustainable forest management


Lasting eco-sustainable management of the natural resources was defined over the 1992 Summit of the Earth in Rio de Janeiro: "Resources and forest grounds want an eco-sustainable management to be able to fill the social, economical, ecological, cultural and spiritual needs of today's and tomorrow's generations".
Another important definition was developed by the "Ministerial Conference on the Protection of European Forests" and since then it was officially implemented by The United Nations Food and Agricultural Organization (FAO):
"Lasting eco-sustainable forest management means exploiting and managing forest grounds in such a way that their biodiversity is preserved, as well as their productivity, their regenerating ability, their vitality and the ability of filling their local, national and worldwide functions, today and tomorrow, without prejudicing other ecosystems."

Lasting and sustainable management (ATIBT magazine, April 2007)


The lasting management of any forest aims to a sensible, sustainable and lasting harvesting of forest products, beginning from planned exploitations carried out with limited impact on a permanent "massif". This way we make sure the forest maintains its resources and its social and ecological functions.
Lasting management also means that various partners need to open a dialogue on the choices they plan to perform, so as to reconcile their various production, social and ecological goals.

Sustainable management plan (ATIBT magazine, April 2007)


This corpus of documents, references and management tools designs a medium and long-term action plan, which is both practical and realistic on a social, ecological, technical and economical basis.

Goals

Likouala Timber's commitment to eco-sustainable forest management means:

Abiding by Congo's laws and regulations in effect.
Gaining thorough knowledge on assigned forest concessions and on their biodiversity through inventories, topographic charts, ecological studies, socio-economic inquiries and much more.
Maintaining the forest biodiversity, water resources, soil and fragile ecosystems, so that the forest itself can regenerate and keep up with its ecological and social functions.
Guaranteeing the sustainable coexistence of different employments of forest resources and contributing to the local and national socio-economic development.
Offering employees proper working conditions and improving their living standards as well as their families'.
Integrating local populations in the eco-sustainable management process.
Significantly and constantly reducing the environmental impact of industrial activities.
Tracking and monitoring the natural regeneration of those most exploited wood cores and their forest dynamics, as well as checking on hunting activities and fighting against poachers.